When it comes to planning (and sticking to a budget) often all that is needed is a visual. As in "lay it all out there and really see where the money is going" visual. In the past, this was accomplished by carefully writing each expense on the appropriate line in a little wedding planner-esque book. This was an okay solution but lacked in its ability to be easily updated, personalized, and didn't allow for possible math errors.
Then came computers and couples everywhere rejoiced. Suddenly, they could create a simple Excel spreadsheet and personalize their wedding budget and categories to fit their own needs. These basic computer tools also allowed couples to update their purchase and alter expenses on an ongoing basis. However, there was still that pesky human math error problem.
And the gods said, "Let there be online planning tools" and there were.
In today's wedding planning world – you can do it on your own and for little or NO expense. There are a ton of online sources out there that allow you to customize your budget, update expenses, and even do the math for you! Here are my two favorites: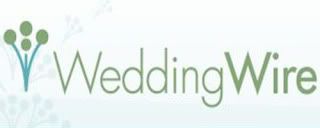 Image Courtesy of: Wedding Wire
According to the site, "WeddingWire is about simplifying your wedding planning by leveraging technology. Whether you are looking for information about a specific vendor, need to comparison shop across vendors, require robust and intuitive management tools, or just want to connect with other engaged couples to share and collaborate, WeddingWire seeks to provide best-in-breed solutions to ease the entire wedding planning process." ***This is the website that I have chosen to use to plan my own wedding. I am not getting a kickback for this post – I simply enjoy the company's product and want to share it with you all.***
The Good: Instant calculations! This is a huge bonus for the mathmatically impaired (coughcoughmecoughcough) and allows you to see exactly what that $20 splurge on a second pair of shoes does to your budget. Plus, I love their personalized budget feature (you plug in your budget and the website calculates your amount per category [based upon industry standards] for you) which really helps with the budget planning in the beginning of the process. Also, the budget tools allow you to redistribute leftover funds from one category into another. For example, if you only use $100 of your designated $400 from your stationary category - the site will ask you what category you want that extra money to go to…or subtract it completely.
The Bad: The photo galleries are slightly user-unfriendly because they only allow you scroll through a few photos at a time to look for ideas and inspiration. This is SUPER frustrating when you are trying to narrow down 1,000+ images.
Image Courtesy of: Google Weddings
According to the site, "Explore how Google's free tools can help you save time, stay organized, and have fun while planning your big day."
The Good: Google Documents has been the ultimate in sharing wedding planning for many couples for years now. And now the company has improved upon that basic service to include free websites, photo sharing, and photo editing. There are also some good tips from wedding planner, Michelle Rago.
The Bad: The designs for the websites and accompanying stationary are pretty dang cheesy. Also, the websites are solely drag and drop jobbies and don't allow for even the most moderately computer savvy person to manipulate the website design or content.
These are just a couple of options for you couples planning a wedding. What programs or online sources are you using? Are you happy with them? What would you like to see changed or added to make the program better?