Regular readers of Kiss My Tulle know that I am a firm believer in saving money on weddings because they only last ONE day and therefore, a wedding's cost per use can be quite ridiculous. So, when divvying up your wedding budget – try to make your splurge items those things that are going to get a higher cost per use.
For example, spending $2,000 on a dress that you will only wear one time has a cost per use of 1 = $2,000. WHAT!?!? CRAZY, right? However, put that same $2,000 toward a wedding videographer and your cost per use becomes a better deal. For example, if you're married for say, 40 years and you watch the video on every anniversary then your cost per use becomes 40 = $50. MUUUUCH more sensible, right?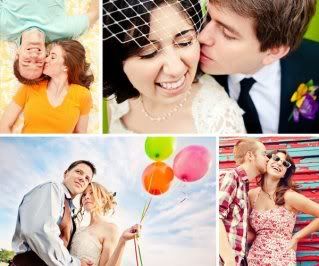 Image Courtesy of: Bend the Light Photography
So what does all this math have to do with budgeting for your photography? Well, for one – photography is a great place to invest in your wedding's highest cost per use item. Seriously, think about it. Say you spend $3,000 on your wedding's photography. If you hang one single photo from your wedding on your wall and keep it there for oh, 40 years – then your wedding photography's cost per use would be $0.2054794 – roughly $0.20 per use. Kicks that $2,000 cost per use dress's sorry ass, doesn't it?
But what if you don't have the standard $3,000 – $5,000 dollars to invest in a wedding photographer? Not a problem, there are ways to save (while still investing) and NOT resort to handing your sweet uncle a point-and-click. Here's a few suggestions:
Be honest. You found your dream photographer but they are out of your price range – don't turn away just yet. Approach them and tell them how much you love their work but…your budget is X amount of dollars – is there some kind of package or deal they can swing with you? Some photographers are flexible (especially during slow seasons) and can rework a package to fit your budget. So speak up!
Negotiate. Like a photographer but hate their package (hee. dirty.)? Ask to them to swap out that bridal portrait session for another hour of photography. This is a great way to budget for a less expensive package but still fulfill your wants and needs. This kind of dealing is standard so don't be shy – tell 'em what you want and see if they'll work with you.
Insist upon the rights. Make sure that your photographer gives you a disc with the images from your wedding on it and sans watermarks. This will allow you to print out the photos you want, when you want, and pay the printing fees you want. In this age of digital photography, this practice is standard and often listed right in the contract but make sure that your photographer does this because it can save you LOADS of money in the end.
When in doubt – skip the albums. Traditionally, photographers offer you several wedding and/or parent album options as part of your package deal. However, if you really want a 2nd photography or extra shooting hours – negotiate with the photographer and ask to lose the albums in favor of those extras. Don't worry about missing out on this traditional wedding item – you can easily use the disc of images (see above) and upload them into a lovely album at any number of online services. Try Shutterfly, Snapfish, or Blurb for tasteful and affordable DIY albums.
Go part-time. It is standard for a wedding photographer to include a second photographer in your package. This is great, so look for vendors willing to include this feature. However, if you can't quite afford a two-fer for the entire wedding then ask about getting the second photographer for part of the time. For example, instead of two photographers for all eight hours – go for one photographer full-time and the second for the first four hours (when having two photographers is most desirable).
Barter. Are you an established web designer or graphic artist? Do you have an "in" with a popular wedding blog where you can get their work featured? Does your aunt manufacture leather albums? If the answer is yes, then look to exchange your strength for their services. However, make sure that you can actually follow through with your end of the deal or you could find yourself in small claims court (a total downer, no?).
Hit a wedding fair. Wedding fairs (or bridal shows as they are also known) are not just for hitting the free food samples and signing up for giveaways. They are an excellent place to find a slammin' photography deal. Most vendors offer show only specials that are available that day only. Some offers include reduced deposit fees, free items or extra hours when you book certain packages, or a special package discounts. So take that checkbook – you never know, your dream photographer could be more affordable than you thought (P.S. This is how I was able to afford my most excellent photographer)!
These are just a few ideas to get you the photography you want for a cost that you can afford. Have you looked for a photographer yet? Is photography an important consider in your wedding budget? What would you be willing to do to get the photographer you dreamed of at a cost you can afford? Say it all in the comments!