Ask anyone in the wedding industry the number one way to save money on your wedding and you will hear the same thing. Tighten that guest list. Yes, it's true – a smaller guest list equals a smaller wedding budget.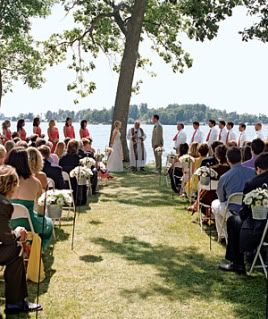 Image Courtesy of: Real Simple
Most venues where people host their weddings (such as hotel ballrooms, restaurants, and banquet halls) base their rates per person. This means that for every guest you invite – you will pay X amount of dollars. Therefore, every single person invited to share your day is an expense to you. So, thinking that $100 a head reception quote isn't such a bad price? Do the math, if you invite 200 people at $100 per person – that is $20,000 JUST FOR THE RECEPTION. That doesn't include the cake, the open bar, the DJ, the band, the dress, the flowers…and on and on.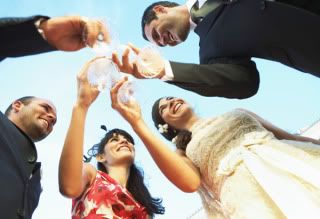 Image Courtesy of: Oprah.com
The number one way to select the number of people to invite to your wedding is to look to your location. Honestly, how many people can it comfortably handle? Will there be enough seating? Is the dance floor too small? Is there one bathroom for every 50 people (a number suggested by event planners for comfort and cleanliness)? Don't make the mistake of falling in love with remote location and then expecting all 500 of your guests to fly there without you ponying up for some of the expenses. Still want that gorge locale? Slash that list. Still want all 500 people? Find some place cheaper. Thems the facts and you need to deal with that reality or planning your wedding is REALLY gonna suck.
Ideally, your parents (who, even if they are not paying for the wedding, STILL have a vested interest in who all is invited) will understand when you cannot invite every person ya'll have ever known. You and yours need to decide upon a number (including plus ones and any children) and be firm about sticking to that number. Then, find a kind but unarguable way to tell your parents how many of those guests that get to invite. A nice way to do this is to say, "I love that you want to share our day with your favorite people. We have already decided to keep the guest list at X number of people and we want you to feel free to invite X number of people – that means anyone you want!" This type of conversation lets them know that you are serious but still allows them a bit of freedom. If anyone else tries to tell you who you must invite, sweetly tell them to shove it. Not paying? Not a parent? Then no opinion.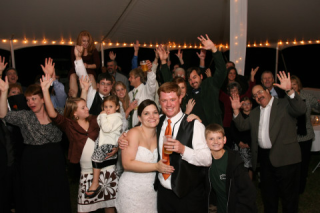 Image Courtesy of: Perfect Wedding Guide
I'm going to take a second and address a couple of traditional, yet controversial, guest list slashers. Excluding kids or excluding dates/plus ones. I'm going to be upfront and tell you my opinion on both. I think that not allowing your friends and family to bring a date is rude and tacky. There's some random rule circulating around the weddingsphere about inviting a plus one only if they've been together more than six months. I have no clue who decided that because you know what? That is just mean. "Oh, I'm sorry friend. You've only been dating this very special guy for 5 months 29 days and even though you've been inseparable – NOPE!" Rude. Surely, you can allot space in your wedding guest list for extras. Try this, when creating your list, pick a number and add 10% for possible plus ones.
Next, children. When it comes to kids – it's your call. I love 'em and think that no wedding is complete without a passel but that's me. But! You may not want them and that's cool. However, you need to be REALLY upfront about that when planning your list because some people will assume that if they are invited – then so are their kiddos. And remember, venues don't generally care about age – kids are the same price as adults and seniors (even though they don't drink alcohol or eat much – the venue does not care. Everyone's the same price because that's easier.).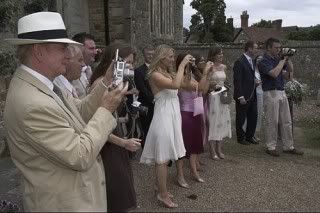 Image Courtesy of: Intimate Weddings
So, before you go crazy and invite everyone you have ever known to your wedding – think if you want to take that wedding cost upon yourself.