In the early stages of the wedding planning process, your brain can quickly become overwhelmed by all the pretty, pretty images out there on the web. However, what to do if you find a lovely image online, fall in love with it, but it's not a wedding-related image so you have no idea what the hell to do with it?!?!
Never fear, m'dears. I am here for you – any image can inspire a wedding. Take this gorge photo of a frosty beverage:
Image Courtesy of: Apartment Therapy: Kitchn
This fresh and fizzy drink could ultimately inspire this colorful and chic bridesmaid's attire: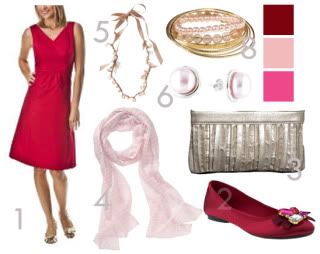 *1. Target V-Neck Dress in Red. *2. Old Navy Embellished Ballet Flat in Red. *3. Express Metallic Pleated Wristlet in Silver. *4. Old Navy Lightweight Metallic-Thread Scarf in Light Pink. *5. Old Navy Fabric Fashion Necklaces in Blush. *6. Target Sterling Silver Fwp Button Earrings in Congnac. *7. Old Navy Fashion Bracelets in Multi Stone.
So, have any of you been inspired recently by a non-wedding image? What did you end up using it as in your planning process? Do share.