In the early stages of the wedding planning process, your brain can quickly become overwhelmed by all the pretty, pretty images out there on the web. However, what to do if you find a lovely image online, fall in love with it, but it's not a wedding-related image so you have no idea what the hell to do with it?!?!
Never fear, m'dears. I am here for you – any image can inspire a wedding. Take this classic exterior shot of a traditional Cape Cod home: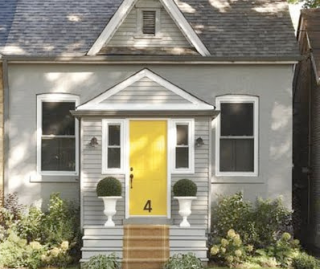 Image Courtesy of: Urban Nest
I think that this image is great inspiration for a chic grey and yellow reception (possibly in a loft, art gallery, or on a wind-swept beach!):
*1. Stephanie Williams Photography. *2. We Met in a Bar. *3. The Knot. *4. We Heart It. *5. Martha Stewart. *6. Style Me Pretty. *7. Elizabeth Anne Designs. *8. Martha Stewart.