In the early stages of the wedding planning process, your brain can quickly become overwhelmed by all the pretty, pretty images out there on the web. However, what to do if you find a lovely image online, fall in love with it, but it's not a wedding-related image so you have no idea what the hell to do with it?!?!
Never fear, m'dears. I am here for you – any image can inspire a wedding. Take this school logo: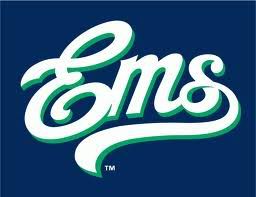 Image Courtesy of: Sports Logos
I think that this image is great inspiration for a modern color combo for the bridesmaids: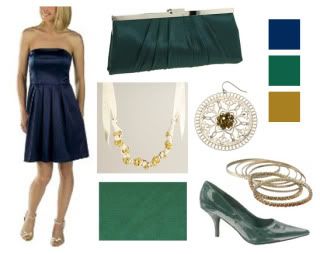 *1. Target Strapless Party Dress in Navy Voyage. *2. Delicious Sexy Green 3 Inch Heel Pump in Green. *3. Jessica McClintock Large East/West Satin Clutch in Emerald. *4. Azuri Silk Charmeuse Sash in Green. *5. J Crew Twirled Metal and Crystal Necklace in Champagne. *6. Old Navy Filigree Wheel Earrings in Green. *7. Old Navy Fashion Bracelets in Brown Metal.