In the early stages of the wedding planning process, your brain can quickly become overwhelmed by all the pretty, pretty images out there on the web. However, what to do if you find a lovely image online, fall in love with it, but it's not a wedding-related image so you have no idea what the hell to do with it?!?!
Never fear, m'dears. I am here for you – any image can inspire a wedding. Take this gorge coral and black entryway:
Image Courtesy of: Coco + Kelley
I think that this image is great inspiration for a modern color combo for the bridesmaids: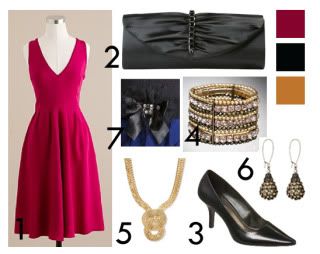 *1. J Crew Silk Tricotine Allegra Dress in Crisp Beet. *2. Payless Camilia Clutch in Black. *3. Target Mena Leather Pumps in Black. *4. Express Beaded Stretch Bracelet in Vintage Pink. *5. Express Knotted Multi-Chain Necklace in Shiny Gold. *6. Target Fireball Drop Earrings in Gold. *7. Express Embellished Feather Stretch Belt in Black.