Supply List:
White pillar candles (in assorted sizes)
Pages from old books or newspapers
Ribbon or fabric (assorted sizes and colors)
Double-sided tape
Scissors
Instructions:
Step One: Remove the packaging from the candle and save – this will be used as a template for cutting the paper trim for the candles.
Step Two: Use double-sided tape and adhere the template on to the paper.
Step Three: Cut around the template to create a stiff-backed paper trim for candle.
Step Four: Repeat steps 1-3 as necessary.
Step Five: Use double-sided tape to adhere paper trim to candle.
Step Six: Trim any extra paper from candle and secure ends with double-sided tape.
Step: Seven: Tie ribbon or fabric scrap around candle and secure with a knot and/or double-sided tape.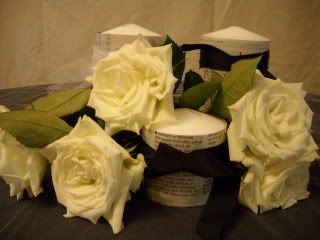 Finish the look off with lots more paper covered candles plus old, used jars filled with white or cream roses. Remember: the paper will make these candles flammable! DO NOT LIGHT!