Lots of cute and crafty possibilites for ya'll to today:
Fabric Flower Belt (from dykast):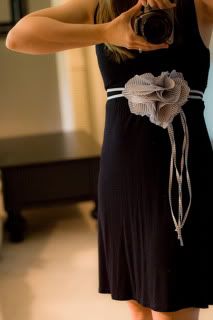 This would be an excellent bridesmaid's gift! In fact, you could really save some dough and ask each of your 'maids to wear any style dress as long as it's navy blue (or whatever color you wish) and then gift them each matching fabric flower belts to tie their looks together.
Make a Dress from a Skirt (from V. and Co.):
An ideal project for anyone wanting a simple but unique outfit for the flowergirl! Just think, you could outfit your bridesmaids in skirts and pretty tops and then make a dress from another skirt for your flowergirl!
Vintage-Like Earrings (from Grosgrain):
Another quickie and cheapie but so, so cool DIY project. Whip up a batch of these vintage earrings for your crew (from the moms to the 'maids) and give them away as thank you gifts/wedding attire.
Pillowcase Dress (from Prudent Baby):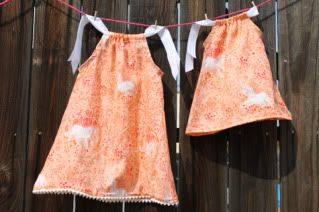 This is a craft to do for the littler wedding party members – make a cute pillowcase into an even cuter dress! So very simple and perfect for those with beginner skills.