So, I decided to whip up a couple of easy-peasy wedding ring pillows for my readers – just to show that it can be done. I'm going to generously say that this project can be DIYed for under $10 but truly, use up some old scraps or clothes that you have laying around the house and save a bundle.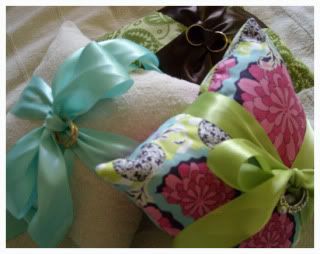 Here's a step-by-step tutorial on how to make the easiest ring pillow ever:
Step One: Create an 8"x8" square template. I used kraft cardstock and a paper trimmer but newspaper or copy paper works too.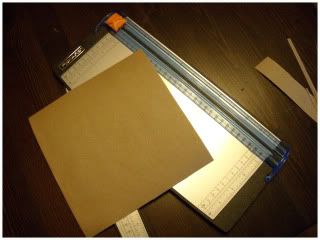 Step Two: Lay the right sides of your fabric (the sides that will end up showing in the completed project) together and pin the template to the top of the wrong side (the side that will not be showing in the completed project).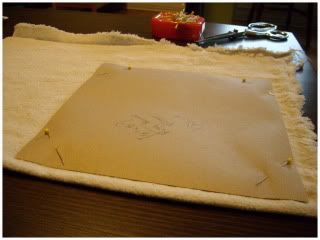 Step Three: Cut out the fabric – cut around the edge of your template using scissors.
Step Four: Repin the edges of the fabric (still with right sides together and the edges lined up) and sew a seam along one side. Here's the easiest way to do this: Stitch a 1/4" seam and do one side at a time. Reinforce each end of each seam (use the reverse button to go back and forth over the last couple of stiches on each end).
**Make sure to leave a 3" opening (unstitched area) in the middle of one side of the pillow – this will be used to turn the pillow inside out later.**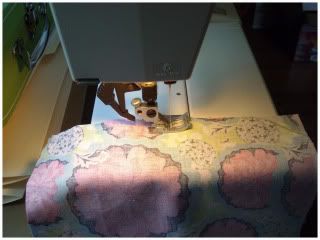 Step Five: Trim each end on an angle. This will make a neat corner later. Use your scissors and cut diagonally across each corner – right next to the stitching (but not on it).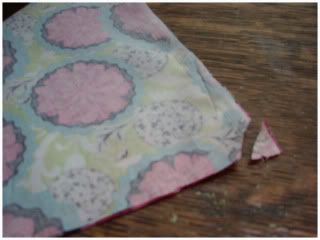 Step Six: Iron each seam inward.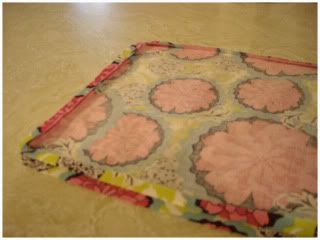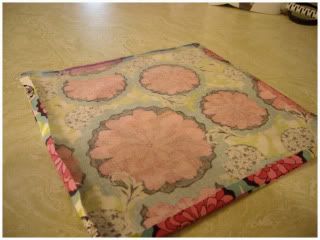 Step Seven: Turn the pillow inside out. Use your finger or a pencil to push the corners all the way out.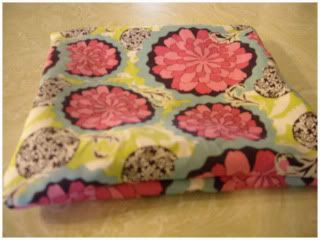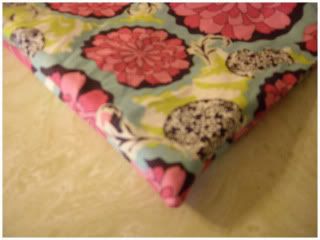 Step Eight: Stuff.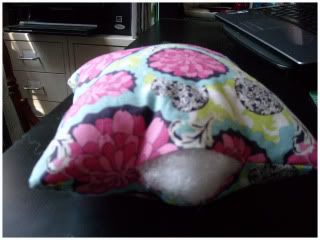 Step Nine: Stitch the opening close. Use a whip stitch or hidden stitch - which ever is easiest for you.
Step Ten: Tie your ribbon around your pillow (I used about 5' of ribbon to make a nice four-way wrap + a big bow). Make sure to include the rings (I did this by doing a fourway wrap and then tying a knot. I added the rings then tied the bow).
I also used a couple of stitches (right on top of each other) to secure the ribbon to the underside of the pillow + a couple more to secure the bottom ribbon to the top the pllow. You could also use a dab of glue or a Glue Dot. This stops the ribbon from falling off the pillow accidentally.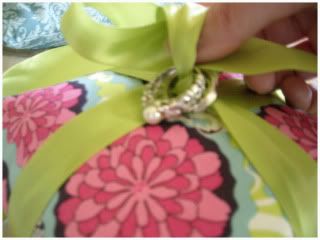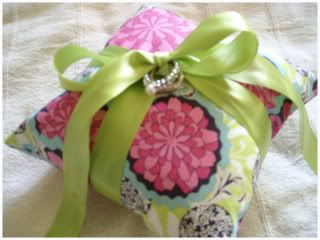 Step Eleven: Enjoy!