Recently, reader Brandi emailed me:
"I am still working on my centerpieces. I am going to do tiered pretty wrapped boxes with bows. My wedding colors are black, white and silver.  My table cloths are black. Have you done these on your website before? "
Nope. But I found some boxes, a black tablecloth, some white tulle, wrapping paper (from Target), and ribbon. Here's what I came up with in about 20 minutes: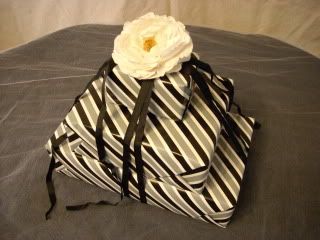 Here's the black tablecloth with a white tulle overlay (I think that gives the table a nice vintage-y look). I wrapped three boxes in wrapping paper (here's a GREAT gift wrapping tutorial) and stacked them. I finished the look off with a black grosgrain ribbon and a silk flower (both purchased from the clearance aisle at Michael's).
There's the same set up but with a black tablecloth – the siver wrapping paper really makes the centerpiece pop!
Just another fun variation (please exuse the wonky boxes – I have no idea why they are appearing crooked). In this one, I layered two boxes on top of each other and displayed them on a silver platter. I also added simple rhinestone trim to pull the look together.
These projects would also look great using white boxes with silver ribbon or silver wrapping paper with wide white satin ribbon. Hope that helps, Brandi!