Wedding programs (a record of your ceremony that acts as an introduction of the wedding party helps guests understand what is happening in the ceremony.) are not a necessity but are a really nice way to add a little something to your wedding day. This can be done relatively cheaply if you DIY them. Here's a basic tutorial for a very simple but lovely wedding program: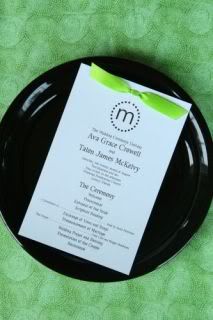 Image Courtesy of: Programs and Bulletins
Step 1: In Word or Photoshop, create the text for your wedding program (here's a link that provides more information on this). Plan to create enough text for a 5 1/2" x 8 1/2" program (this should allow you to print two programs on one piece of cardstock). Here are some free fonts that would look great on a wedding program: Lane, Kontor, and Bebas.
Step 2: Print out your programs on to cardstock.
Step 3: Use a paper trimmer (or scissors and a very steady hand) to cut the cardstock into individual programs.
Step 4: Use a hole punch to punch two holes (centered and about 1/2" apart) at the top of each program.
Step 5: Starting at the back, thread 3-4" of ribbon through the holes and tie into a knot in the front.
Step 6: Display (or hand out) pre-ceremony.