An engagement ring is such an important part of any wedding (after all, it's the kick-off for the big party!) but the cost of (and finding) a ring can be so overwhelming! In today's society, lots of couples are choosing to pick out and purchase a ring together – which is great. She gets exactly what she wants and he doesn't have to stress out about the size. Still, finding the perfect ring can be such an overwhelming experience and getting it a fair price can be even more difficult.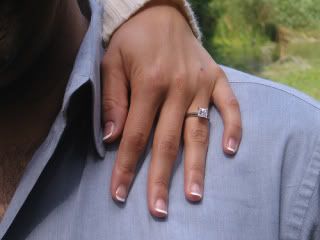 Image Courtesy of: Personal Jewelry Shopper
To help you eliminate some of stress involved, I've culled together some tips to help guide you through the process of finding the best ring for the best pice:
Focus on what part of the ring is the most important to her. Is it a specific cut of stone, a certain type of metal band, or a particular brand? Then concentrate your energy (and money) on buying that feature… and be flexible with the others.
Opt for a lower value metal. This can literally save hundreds (or thousands) of dollars. Plus, in the case of gold – a lower karat is actually more tougher so this may be perfect for the hands-on bride.
Choose a less expensive silver-toned metal. Platinum is the most expensive followed by titanium, white gold, and sterling silver. Choosing a lower quality (but still silver looking) metal will save money.
Select a smaller karat. The visual difference between a stone that is a one-third karat and a one-half karat is minimal. However, the price can jump significantly between the two sizes.
Choose a lower quality stone. The difference in clarity between a high SI rating and a low VS rating is nearly indetectable to the naked eye. However, the difference in price is very noticable to the pocketbook.
Select a common shape. The least expensive stone shape is the round gem. Stone cuts that are trademarked (like the Asscher or Hearts on Fire) are far more expensive. 
Use a smaller band. The thicker the band, the more metal it uses, and the more money it costs. Select a thinner band and save some dough (plus, a smaller band makes the stone(s) appear larger!).
Still nervous by the thought of wheeling and dealing in a jewlery store? Here's some excellent deals that I have found around the web for you:
14k Gold 1/2ct TDW Diamond Engagement Ring (from Overstock.com) – $583.99:
Facets of Fire 3/8 CT. T.W. Diamond Engagement Ring (from Wal-Mart) – $548.00: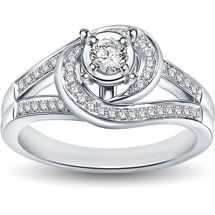 1/4 Carat T.W. Princess-Cut Three Stone Diamond Engagement Ring - White Gold (from Wal-Mart) – $199.00: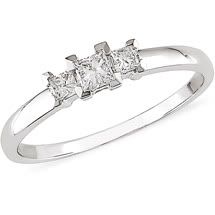 1/4 ct. Round Diamond Solitaire Engagement Ring - Sterling Silver (from Amazon) – $199.00: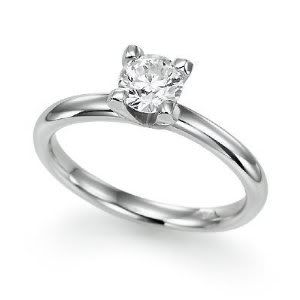 1 ct. t.w.* Emerald and Princess Diamond Engagement Ring – White Gold (from Sears) – $1,399.00:
Wedding Band And Engagement Ring - White (from Target) – $1,119.99: