Last week, as I stumbled around Michael's, I happened upon these totally cute, striped pencils ($8 for $1.00):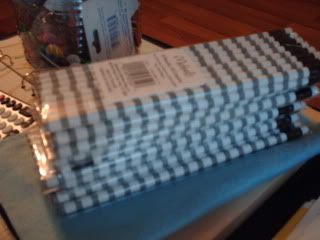 I snapped up an obscene number of these babies, went home, and created this wedding favor: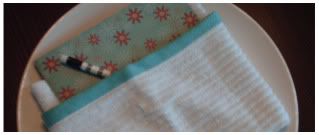 Little notebooks and pencils for your guests! Let them have the blank notebooks to jot notes (or get the number of the hottie seated next to them!) OR make the mini notebooks into address books (with your new address!) OR fill the pages with clever crossword puzzles or word jumbles (use your wedding and relationship trivia as clues!).
Supply List:
12"x12" double-sided cardstock (mine's from Cloud 9 Designs)
8.5"x11" copy paper
Sewing machine + thread
Paper trimmer (mine's from Fiskars)
Totally cute, striped pencils (from the dollar bins at Michael's)
For a 6"x6" notebook:
Step One: Trim the 12"x12" cardstock into (2) 6"x12" strips. Set one aside.
Step Two: Trim the 8.5"x11" copy paper into (1) 6"x11" strip. Recycle or reuse the leftover paper.
Step Three: Lay the copy paper on top of the wrong side (the side of the cardstock that you don't want on the outside) of the cardstock and center it.
Step Four: Gently fold the copy paper and cardstock in half – this makes a crease for you to follow when you sew the binding.
Step Five: Gently open the notebook until it is flat and sew a straight seam down the center (along the crease). Remember to backstitch that beginning and end of the seam (stitch forward a few stitches and then reverse over the stitches to secure the seam). Trim the threads.
Step Six: Tuck the notebook and a totally cute, striped pencil into the napkin at each placesetting (adhere a cute label with each guest's name and this favor can double as a placecard!). Enjoy!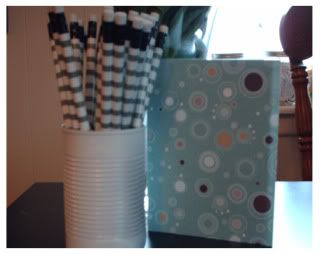 Variation: I also did a version of this notebook in an 4"x6" size. To do, follow all the directions the same but trim your cardstock to 8"x12" and your copy paper to 7.5"x11".
**This project would also be a really great alternative to a guest book. Place one at each table with a bunch of pencils and let your guests doodle their sentiments to you!**