Wedding attire is one category that can quickly spiral out of control money-wise. You want to look beautiful, you want to feel beautiful, and you want to photograph beautifully. All of the above are totally understandable and, well, perfectly normal. You're the bride – of course you want to shine.
But beware the bridal accessory money pit. Unless you're a regular on the high-society cocktail circuit or own season tickets to the opera – you do not need to be drippin' in diamonds (ten points if you get that reference!). What's a budget bride to do? Look for quality knock-offs of your preferred bling. There are lots of awesome websites out there that cater to these looks and make some really excellent pieces in a variety of price points.
Don't have time to mine through countless websites? KMT has pulled together some great options from a variety of budget companies. Check 'em out:
If You Like Bling
*1. Standing Ovation Necklace. *2. Petra Fringe Earrings. *3. Deco Drop Earrings. *4. Dressed Up to Dazzle Earrings. *5. Heirloom Deco Bracelet. *6. Belle Fleur Ring in Hematite. *7. 7 Carat Blue Chalcedony & Tanzanite Sterling Silver Pendant w/ Chain. *8. Rhinestone Corded Bracelet. *9. Gorgeous Alloy With Rhinestones Bridal Tiara. *10. Gorgeous Clear Swarovski Crystal Wedding Bridal Jewelry Necklace.
If You Like Classic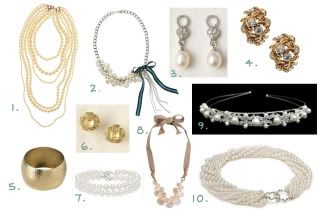 *1. Pearl Glam Necklace. *2. Mixed-Media Fashion Necklace in Cultura. *3. Fresh Water Pearl Dangles. *4. Treasure Tree Earrings. *5. Fashion Bracelet in Brass Ox. *6. Belle Fleur Earrings. *7. Cultured Pearl Double Strand Bracelet with Sterling Silver Clasp.*8. Peachy Chunk Ribbon Necklace. *9. Gorgeous Clear Crystals and Imitation Pearls Bridal Tiara. *10. Fashion Fresh Water Pearl Necklace.
If You Like Color
*1. Salon Sophisticate Necklace. *2. Beaded Bib Necklace in Blue Tonal. *3. Bloom Flower Ring in Coral/Gold. *4. Who Sent Flowers? Ring. *5. Flower Ring in Yellow. *6. Dark Pink Crystal Stainless Steel Bangle. *7. 29 3/4 Carat Smokey Quartz Sterling Silver Bracelet. *8. Chunky Mixed Chain Necklace. *9. Gorgeous Cotton/Beading Wedding Bridal Pins. *10. Ring.