I was browsing around a wedding gown website the other day and I was totally floored by the prices. $8,000 for one gown that most women will wear for one day? Seriously?
What really blows my mind is that most of these fancy-schmancy gowns are nothing different than what you can find in the Fancy Dress section of a department store or in any of the new pricepoint bridal sections in most big box stores. The key to saving money on your bridal attire is to remember three things:
1. Most brides want white dresses. That's great! But don't get sucked into only buying labels that say "bridal" – many different types of cocktail and evening gowns are made in white or ivory and in a variety fine materials. Look outside the bride section and you'll find a world of affordably priced dresses that look just like bridal gowns.
2. Spend on the important stuff and save on everything else. If a lovely dress is a biggie for you then budget the bulk of your money towards that – then buy cute shoes from Payless or make your own veil from a handful of tulle.
3. Buy good foundation pieces. I do not care what kind of a deal that you got on that incredible Vera Wang dress. If your boobies are hitting your chin and I can see your underwear – it's just not pretty. The good news? Consumer Reports recently did a testing of bras and underwear and found that the best bang for retaining bust is the Gilligan & O'Malley line from Target. They make a variety of styles, in a large assortment of sizes, and cover almost every skin tone. Here's another tip, create a budget for your undergarments. I know, I know. It's sounds so silly but think about it. If you pick out the right garments, you can use them after the wedding is over. Think of it as an investment for your undies drawer.
So, keeping those tips in mind. Here are three options for your wedding day attire – all under $150.00:
Option #1 (Total Cost of Outfit – $147.96):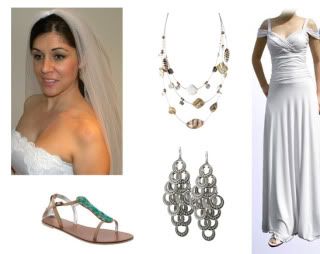 *1. Overstock.com Evanese Women's Long Dress with Shoulder Bands in Creme. *2. Old Navy Mosaic-Beaded Leather Sandals in Cool Combo. *3. Marisola Paricio Traditional 60 Inch Long x 108 Inch Wide Raw Cut Lauren Veil. *4. Payless Short Natural Illusion Necklace in Tan. *5. Payless Diamond Chandelier Earrings in Silver.
 Option #2 (Total Cost of Outfit – $145.95):
*1. Amazon Strapless Taffeta Bridesmaid Prom Holiday Formal Gown Long Dress in White. *2. Amazon Pearl Edge White Wedding Veil with Comb in White. *3. Old Navy Faux-Gem Chandelier Earrings in Crystal. *4. Old Navy Large-Beaded Chain Necklaces in Clear. *5. Target Idalia Dress Sandals in Black.
Option #3 (Total Cost of Outfit – $119.97):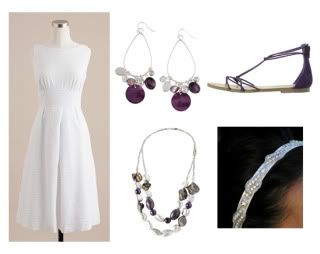 *1. J Crew Solid Embossed Beach Dress in White. *2. Amie Noel Designs Bella Rhinestone Beaded Bridal Headband. *3. Payless Moxie Strappy Flat Sandal in Purple. *4. Payless Teardrop Shell Earrings in Purple. *5. Payless Amy Short Necklace in Silver.