I was browsing around a wedding gown website the other day and I was totally floored by the prices. $8,000 for one gown that most women will wear for one day? Seriously?
What really blows my mind is that most of these fancy-schmancy gowns are nothing different than what you can find in the Fancy Dress section of a department store or in any of the new pricepoint bridal sections in most big box stores. The key to saving money on your bridal attire is to remember three things:
1. Most brides want white dresses. That's great! But don't get sucked into only buying labels that say "bridal" – many different types of cocktail and evening gowns are made in white or ivory and in a variety fine materials. Look outside the bride section and you'll find a world of affordably priced dresses that look just like bridal gowns.
2. Spend on the important stuff and save on everything else. If a lovely dress is a biggie for you then budget the bulk of your money towards that – then buy cute shoes from Payless or make your own veil from a handful of tulle.
3. Buy good foundation pieces. I do not care what kind of a deal that you got on that incredible Vera Wang dress. If your boobies are hitting your knees and I can see your underwear – it's just not pretty. The good news? Consumer Reports did a testing of bras and underwear and found that the best bang for retaining the bust is the Gilligan & O'Malley line from Target. They make a variety of styles, in a large assortment of sizes, and cover almost every skin tone. Here's another tip, create a budget for your undergarments. I know, I know. It's sounds so silly but think about it. If you pick out the right garments, you can use them after the wedding is over. Think of it as an investment for your undies drawer.
Here's a selection of bridal outfits (dress, veil, shoes, clutch, earrings, and necklace) that I culled from around the web – each comes in at $150.00 or less TOTAL.
Option #1: The Plantation Garden Wedding (Total Cost of Outfit – $147.94):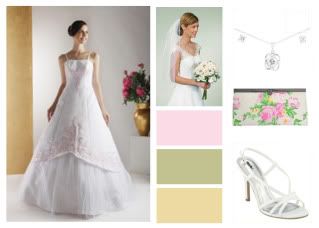 *1. A-line/Princess Spaghetti Straps Sleeveless Floor-length Satin Wedding Dress (Photo Courtesy of: Light in the Box). *2. Simple Elegance Cut Edge White Wedding Veil with Comb. *3. Target Black Iesha Heeled Sandals in White. *4. Sterling Silver Cubic Zirconia Loveknot Necklace Earring Set in White. *5. BG Vintage Style Floral Faux Leather Purse Clutch.
Option #1: The Botanical Garden Wedding (Total Cost of Outfit – $147.04):
*1. Goddess Strapless Satin Gown in White. *2. 2 Layers Elbow Length Wedding Veil (Photo Courtesy of: Light in the Box). *3. Rampage Women's Nicki Pump in Pink Smooth. *4. Old Navy Beaded Fashion Necklace in Pink Floral. *5. 14k Gold Tone Crystal Pink Tourmaline Stud Earrings. *6. Gorgeous Silk Evening Bag in Beige.
Option #1: The Community Garden Wedding (Total Cost of Outfit – $130.97):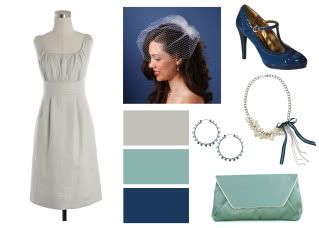 *1. J Crew Cotton Cady Sydney Dress in Light Pewter. *2. White Long French Birdcage Veil with Comb. *3. Target Reta Platform Pumps in Navy. *4. Old Navy Mixed-Media Fashion Necklaces in Cultura. *5. Old Navy Embellished Drop Earrings in Blue Tonal. *6. Gorgeous Matte Silk Evening Bag Handbag Purse Clutch (Photo Courtesy of: Light in the Box).
What was your wedding dress shopping budget like? Did you have to make any sacrifices to get what you wanted? Or did you score a major deal? Chime in!
***Pssst! Be sure to stop by tomorrow for a special Delas and Steals – a giveaway from a major chain store!***