One of the oldest wedding jokes is how traditionally awful the bridesmaid's dresses are. Sitcoms have based entire episodes around it (remember Rachel's awful Bo-Beep get-up for ex-Barry's wedding to Mindy?) and
Glamour
has even had a contest about it for their
Do's and Don'ts page
.
Here's the deal, Brides.
1. Take into account your wedding party's coloring, sizes, and shapes. Is one girl a blonde Glamzon and another an Italian curvy queen? The same exact dress will not (no, trust me, it will not) work on both ladies.
2. Think about the season and where your ceremony and reception will be taking place. A cotton minidress may look cute for your ultramod wedding but not so much if it's held at an open air venue in November and your 'maids are a-shiverin'.
3. Be honest about how much your wedding party can spend on a dress. Yes, you may have found the perfect option (great color, beautiful fabric, looks good on everyone) at Vera Wang but, honestly, very few people can afford the fee (or want to).
4. Don't fool yourself. The dress will never get worn again. Really.
So, how does a bride deal with the above in the classiest way and still achieve the look she's hoping for?
1. Pick a choice of colors and cuts. Stick to 3 of each and work with the group to make sure you get a pleasing finished look. Every party has that one girl who looks great in anything so I'd concentrate on clothing the "harder" bodies (i.e. pregnant, very tall, curvy, etc) first. Just a note, pencil or A-line skirts look great on everyone, as do wrap dresses and tailored shirtdresses.
2. It's important to match your attire to the season and it will make budget dress hunting easier for you and your 'maids. Still dying for a minidress in November? Pick one in a heavy material (wool blend, sweater-y, etc) and pair it with knee-height boots and tights. And possibly a shawl or wrap.
3. Budget. Just because you've alloted $100 per bridesmaid outfit for your ladies does not mean that they can swing those funds. Have an honest conversation with each lady individually about how much you were thinking of as an outfit budget and what types of clothing you are considering. Someone might have a part of the outfit (i.e. knee-high boots, a cashmere wrap, etc) already in their closet. Someone else moght be able to do a little browsing and find budget options below your original estimate. But sometimes, someone simply cannot afford to be in your wedding. And that's okay.
4. Seriously, never again. Stop dreamin'.
I decided to browse around and find pretty and seasonally appropriate (in this case – reds and pinks) bridesmaid outfits (top to bottom) for under $100. Here's what I came up with:
Option #1 (Total Cost of Outfit – $99.44):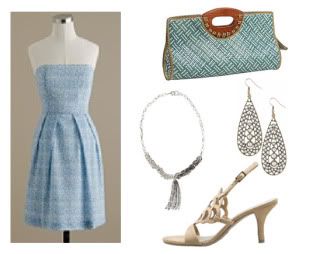 *1. J Crew Printed Embossed Lorelei Dress in Azure. *2. Payless Leona Sandal in Tan. *3. WalMart Bamboo 54 Pandanus Clutch Wave in Blue. *4. Old Navy Fashion Chain Necklace in Silver. *5. Old Navy Vintage-Inspired Earrings in Cultura.
Option #2 (Total Cost of Outfit – $88.97):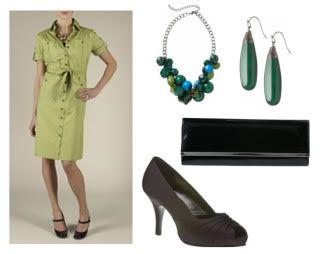 *1. Shade Clothing Poplin Shirtdress in Moss. *2. Old Navy Large Necklace in Blue Green. *3. Target Mossimo Isabella Peep-Toe Pumps in Black. *4. Old Navy Boho-Chic Fashion Earrings in Dark Green. *5. Payless Callie Clutch in Black.
Option #3 (Total Cost of Outfit – $75.44):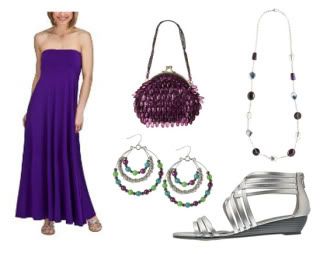 *1. Target Strapless Maxi Dress in Purple. *2. Payless Stella Gladiator Sandal in Silver. *3. Payless Colorful Gypsy Chandelier Earrings in Multi. *4. Payless Oxidized Silver Station Necklace in Silver. *5. Target Beaded Frame Pouch Clutch in Plum.