I think that the reception tabletops are one of the most effective ways for a couple to make a visual impact at their wedding. But! They can become so expensive to do since you have to recreate the exact same look over and over. However, there are ways around this dilemma. One, is to pick a simple but colorful tabletop that uses simple household or thrifted items. Like this one: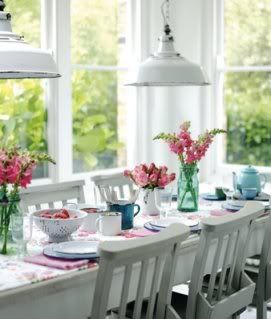 Image Courtesy of: Design*Sponge
 See the assorted pitchers and colanders being used as containers? Such a great idea (and they can be used in the couple's new home post-wedding day!). To recreate this look, try hitting up thrift stores and garage sales for the necessary items OR use our style guide below to round up your supplies:
*1. White Enamel/Stainless Steel Colander. *2. Ball Perfect Blue Mason Jars. *3. Polished Cotton Blend Floral Fabric. *4. Cotton Blend Shirting Satin Floral Stripe Light Pink Fabric. *5. Turquoise Imusa Enamel Mug. *6. White Enamel Mug. *7. Dreamer 3 Piece Tea Service in Blue.