Here's the thing about guys (aside from that need to NOT ask for directions, race the car next to them, and consider Spam a major food group…). They can pull off traditional wedding attire at ANY age. Women have to watch out for hemlines, cleavage, and arms but men – suit, tie, shoes, done.
But! That does not mean that the mature groom can pull of the same colors or cuts as his younger counterparts. So, I have come up with some options for the mature groom that come in under $175.00:
Option #1 (Total Cost of Outfit – $110.93):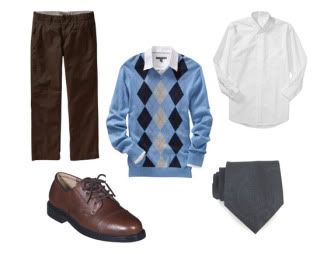 *1. Old Navy Broken-In Khakis in Burrow Brown. *2. Men's Long-Sleeve Poplin Shirt in White. *3. Old Navy Argyle V-Neck Sweater in Heather Light Blue. *4. Rabbit Stop Charcoal Gray Paisley Silk Tie. *5. Target Teddy Cap-Toe Oxfords in Brown.
 Option #2 (Total Cost of Outfit – $151.42):
*1. Amazon Italian 3 Button 2pc Mens Suit Signature Collection Merino Wool 140's Hand Tailored Year Round Use Business Suit in Chocolate Brown. *2. Target Loki Dress Oxfords in Black. *3. Old Navy Classic Shirts in Montana Green. *4. Rabbit Stop Green and White Striped Skinny Silk Tie.
Option #3 (Total Cost of outfit – $122.93):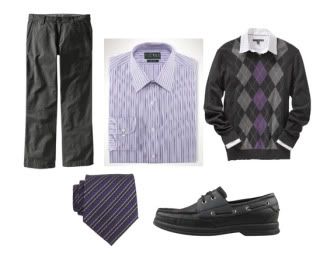 *1. Old Navy Canvas Boot-Cut Pants in Stainless Steel. *2. Payless Schooner Boat Oxford in Black. *3. Amazon Lauren Ralph Lauren Dress Shirt in Purple White Stripe. *4. Old Navy Argyle V-Neck Sweaters in Heather Drak Gray. *5. Rabbit Stop Eggplant Purple Striped Silk Tie.