Today, KMT is tackling honeymoons – specifically, the weekend honeymoon. This is a great way to save money - go to a fantastic locale but only stay a few days! To help the ladies feel fantastic on that quickie weekend getaway, KMT has gathered a weekend's worth of outfits (+ a carry-on bag!) for a lovely little (beach, country, or city) honeymoon. These combination can, of course, be washed so the combos below could actually work for a full week – should you be inclined.
Image Courtesy of: Squidoo
The key to a fab weekend wardrobe is to have several options available to you at all times and having it all fit into a single carry-on (to save on airlines checked baggage fees, of course!). To accomplish this (no small) feat, remember the following while packing:
Try on everything you're planning on packing BEFORE the trip. Anything that doesn't fit right or makes you feel less than great should be nixed – if you hate it in your bedroom then you'll really hate it after a big tapas meal.
Big picture thinking. Everything in your suitcase should be able to work together – no matter the combination. So skip those perfect heels that only work with that one pair of jeans. They'll just take up space that can be used for sexy lingerie or some great souvenirs.
Think sensible. Light colors tend to look better the second time around than darks and knits travel better than woven. That linen shift dress may be gorge and go with everything but do you really wanna mess with those wrinkles when you could be makin' out?
Thin is best…when it comes to clothes to pack. Two thin items should always trump one bulky piece. This gives you more options (and if you get cold – you can always layer…or cuddle).
Quality not quantity. Do not allow yourself more than three pairs of shoes TOTAL – no matter the length of your trip. That means one on your feet and two in your carry-on. Shoes are bulky and difficult to pack around. Sticking to three pairs will force you to only take your favorites (read: most comfortable) and therefore, the most versatile.
Here's three looks for three different honeymoon locales and all for under $300.00 TOTAL:
The Beach Weekend Honeymoon for Her (Total Cost – $294.45):
Look chic in Hawaii, Malibu, or St. Thomas with this collection – suitable for sunset strolls, laying on the beach, and lazy brunches.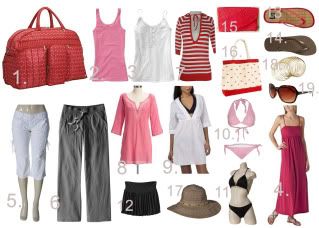 *1. LUG Life Round-trip Shuttle Bus Weekender Bag in Crimson. *2. Old Navy Jersey-Stretch Tank in Pink Stripe. *3. Old Navy Ruffle Trim Tank in Bright White. *4. Target Cami Maxi Dress in Rose Scenario. *5. Tyte Bermuda Cargo Shorts in White. *6. Old Navy Jersey Lounge Pants in Grey. *7. Pink Rose Stretch Knit Pullover. *8. Old Navy 3/4-Sleeve Gauze Tunics in Electric Neon Salmon. *9. Target Deep V Tunic with Crochet Trim in True White. *10. Skechers Eyelet Bikini in Pink. *11. Sabree Triangle String Halter Bikini in Black. *12. Old Navy Roll-Over Jersey Minis in Black. *13. Payless Straw EVA Sandal in Red. *14. Old Navy Classic Metallic Flip-Flops in Bronze. *15. Vintage Darling Vintage Straw Clutch in Red. *16. Wal-Mart Sunny Canvas Tote with Rope Handle in Red. *17. Target Beaded Trim Floppy Hat in Brown. *18. Old Navy Metal Bangles in Gold Plated. *19. Wal-Mart DNA Sunglasses with Burgundy Frames and Brown Lenses.
The Country Weekend Honeymoon (Total Cost – $297.20):
Look chic in Vermont, Denver, or Tahoe with this collection – suitable for hanging out by the fire, nature excursions, and antiquing.
*1. Jane Marvel Mile High Bag in Carmel. *2. Target Bootcut Jean in Dark Wash. *3. Old Navy Perfect Khakis in Khaki. *4. Old Navy Ruffled Gauze Tops in Yellow Check. *5. Target Micro Rib Tank in Heather Grey. *6. Wal-Mart Norma Kamali Organic Cotton Short-Sleeve V-Neck Tee in Army. *7. Mod Cloth Wardrobe Unity Dress. *8. Old Navy Printed Button-Down Shirt in Yellow Floral. *9. Old Navy Denim Jacket in Dark Worn. *10. Target Turtleneck Sweater in Dark Heather Grey. *11. Payless Coco II Moc in Brown. *12. Sweet Beauty Faux Shearling Boots in Chestnut. *13. ASOS Feather Drop Earrings. *14. Target Muk Luks Fairisle Tote Bag in Pink/Brown.
The City Weekend Honeymoon (Total Cost – $297.92):
Look chic in Chicago, New York City, or Montreal with this collection – suitable for shopping, theater going, and sightseeing.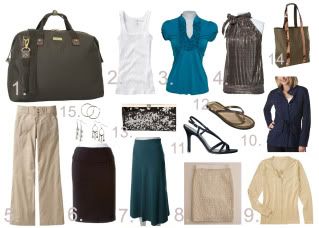 *1. Tommy Bahama Luggage Nassau City Bag in Chocolate. *2. Old Navy Perfect Rib-Knit Tank in Bright White. *3. Heart Soul Stretch Ruffle Cap Sleeve Shirt in Teal. *4. HeartSoul Sleeveless Metallic Crinkle Blouse. *5. Old Navy Lightweight Wide-Leg Khakis in Khaki. *6. Rampage Stretch Paneled Pencil Skirt. *7. Target Adi Designs Flowing A-line Skirt in Teal. *8. J Crew Metallic Gauze Pencil Skirt in Beige. *9. Wal-Mart Long-Sleeve Crew-Neck Cardigan in Tan Sesame. *10. Target Utility Jacket in In The Navy. *11. Target Iesha Heeled Sandals in Black. *12. Target Gemma Embellished Flip Flops in Bronze. *13. Black Flip Sequin Accordion Clutch. *14. Old Navy Sequin-Trim Canvas Tote in Olive Green. *15. Payless Hematite Three Piece Drop Earring Set.
Are any of you doing a quickie honeymoon to save money? Is anyone investing in clothing for the honeymoon? Are you attaching it to your wedding budget or is that separate? Share Away!
P.S. We're hosting a giveaway from CSN Stores through Thursday – Click Here to Enter!