I had a reader request (you can do one too! Drop me an email: cris [at] kissmytulle [dot] com) for an inexpensive options round-up of rehearsal dinner outfits. Happy to help! Below are three options for the bride to wear at her wedding rehearsal dinner – all under $100.00 TOTAL.
Option #1 (Total Cost - $73.97):
*1. ModCloth After Darkness Falls Dress. *2. Miss Me Patent Cutout Thong Sandals in Coral. *3. H&M 10-Pack Bracelet. *4. Target Coral Chandelier Earrings in Matte Gold. *5. Vintage Darling's Vintage Straw Clutch in Red.
Option #2 (Total Cost – $96.27):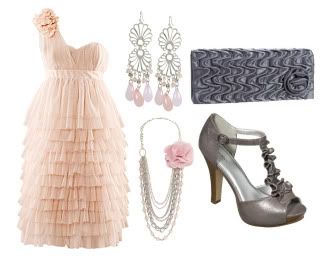 *1. H&M Dress. *2. Target Tabitha T-Strap Peep-Toe Pumps in Grey. *3. Payless Multi Layer Flower Necklace in Pink. *4. Payless Shell Cutout Earrings. *5. IMoshion Tyra Clutch in Grey.
Option #3 (Total Cost – $83.67):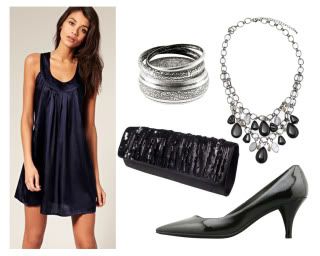 *1. Vero Moda A Line Sleeveless Mini Dress in Midnight Blue. *2. Payless Auburn Patent Pump in Black. *3. Winnity Genuine Onyx Beaded Necklace. *4. H&M 3-pack Bracelet. *5. Target Sequin Clutch in Black.