Fall is officially here. And with it comes simpler tastes and more comfy settings. Most everyone loves fall because it inspires you to hunker down in front of the fireplace and get cozy with those you love. Why not transfer those "fall feelings" into a simple, yet lovely, tabletop for your reception? Here's a gorgeous one that I found recently: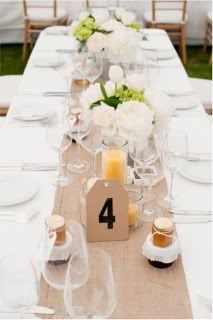 Image Courtesy of: We Met in a Bar
What I really love about it is that it totally escues the traditional fall colors and leans instead towards textures and a nice rustic feeling. Wanna recreate this look? Here's a round up of inexpensive options for you (as found by us):
*1. SVALKA White Wine Glasses (6 Pack). *2. BONUS 16-Piece Cutlery Set. *3. LUGN Plate. *4. SOCKER Plant Pot. *5. Hexagon Glass Jars. *6. Bernardin Mason Jars. *7. Yellow Pillar Candles (Set of 4). *8. Burlap by the Yard (40 Inch Wide) *9. Martha Stewart Crafts Holiday Tags.