I have the coolest "knock-off" wedding for ya'll today. This one was posted by Design*Sponge and I have drooling over it for months now!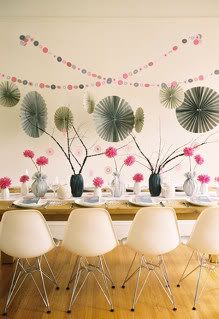 Image Courtesy of: Design*Sponge
Here's my round-up of inexpensive options to recreate this little bit of awesomeness on the cheap: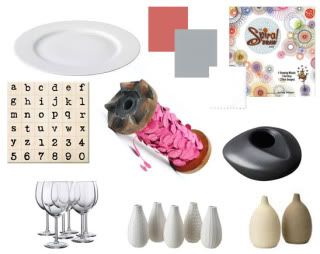 *1. Ikea 365+ plate. *2. Svalka wineglass. *3. Bonus Flatware. *4. Farm Vases. *5. Havtorn Vases. *6. Biggara Vase. *7. Confetti Paper Garland Strand. *8. Spiral Draw Book (to create and cut out your own decorative spirogrpahs!). *9. White Canvas Fabric (use to make runner and napkins). *10. Bazzill Cardstock in Pink and Grey (use to create hanging paper decor). *11. EK Success Alphabet Stamps.