Today's post was completely inspired by this post from the awesome Nicole over at Big Day for Under $10k. She listed some of the songs that she wants played at her wedding. At Nicole's wedding, she and Mr. Man will be enjoying their first dance as a married couple to Randy Newman's "You Got a Friend in Me" (from "Toy Story"). I loved that! Way to pick a familiar song and include it in your wedding in a totally non-traditional way. After all, how many more times can anyone handle hearing Celine Dion yowl her way through "My Heart Will Go On"?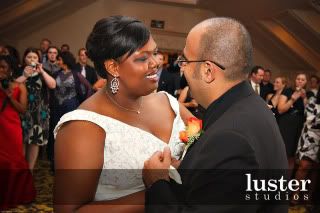 Image Courtesy of: Luster Studios
My mind immediately strated churning and thinking of other awesome, non-traditional First Dance songs (that are still appropriate enough for Nana!). Here's some that I came up with:
Do you know your first dance song? Are you going with any of the ones listed above? Why did you pick the one that you did? Share away!