Hellooooo fabulous KMT readers! I'm Allie of Allie's New Day (and this AWESOME guest post on engagement ring shopping) and I'm here to share our urban photo session with you. A little backstory: Mr. NYC and I have been together for about a year and a half and have very few pictures of us together. I made the executive decision that we should do a couples photo session (this was pre-engagement) and I knew exactly who I wanted as our photographer: Nashville-based Amber V. of Lotus Blossom Photography. Not only am I blessed to call her a friend, she's got some kick ass talent. I've always loved her style and her perspective and there was no doubt that I had to hire her. I worked with her to find a date to fly her into Dallas, and it was ON.
Our next decision was to figure out where we wanted our photo session to take place. You see, my FH & I are like Donnie & Marie – a little bit country (me) and a little bit rock n roll (him). He's not really a rock n roll guy. It just fit the song. But he IS a city boy – NYC. THE City. (And that's why his nickname is Mr. NYC – obvious, right?!). So while a session in the Fort Worth Stockyards totally fit me, it was totally NOT Mr. NYC.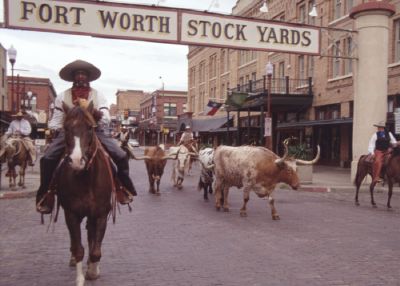 NOT Mr. NYC
What I really wanted was something kind of Urban Cowboy.
No, no, NOT John Travolta. (And no, I can't really explain why I'm stuck on 70's references today). I wanted photos that combined Mr. NYC's urban roots with my down-home-Texas casual style. I knew that Amber is totally inspired by all things rusty, industrial, and unusual. I thought that doing a session in Deep Ellum would totally fit for all of us: urban (it's basically downtown Dallas), Texas (cuz it's still Dallas), and industrial/unusual. So without further yammering on, here's some of my favorite shots from our session:
 
Images Courtesy of: Lotus Blossom Photography
You can see that Amber found some awesome backdrops that fit the urban theme for Mr. NYC and the Texas/Americana theme that totally fits me. I absolutely LOVED our photos and have a couple on canvases (so far). 
Bonus? Amber also does pet photography. This is my sweet girl, Jessie.
Image Courtesy of: Lotus Blossom Photography
Because every blog needs at least one pug picture. You're welcome!
The moral of the story? Know what "style" of photography fits you. Find a photographer who's style you like. COMMUNICATE what you're looking for in photos to your fabulous photographer. And then trust him or her to capture it.
Hope you enjoyed our urban photo session. Thank again to Amber and Lotus Blossom Photography!!