This post comes at the request of one of my Twitter followers (You can be one, too - just click here to join!), The Unhappy Bride. She tweeted, "Really want peonies for bouquet,but mom kinda scrunched up her nose.Said they're not really 'bouquet' kinda flowers and roses are.This true?". To which I replied "NO!".
Image Courtesy of: Paper Doll Romance
In fact, I wrote to her that peonies are one of the MOST popular wedding flowers – particularly for bridal bouquets. One reason is that they are very feminine and romatic looking plus, they offer a lush color counterpoint to the traditional white wedding dress. Another, is because the blooms are so lush that brides are able to create full-looking bouquets with only a few stems (which can cut down on material and labor costs).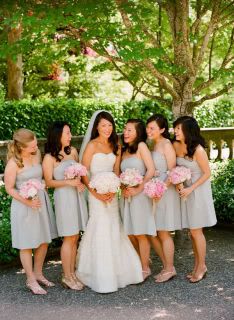 Image Courtesy of: Lisa Lefkowitz
Several important things to remember though – peonies have a VERY limited growing season and are a popular wedding flower choices - and that can drive up their cost. So shop around and, if absolutely MUST have peonies at your wedding, plan your wedding during peak growing season for the best deals. Also, if you are interested in DIYing your own peony bouquet then check out this great tutorial.
Image Courtesy of: Chatty Brides
Still can't convince your mom for an all peony bouquet? Why not mix them with some more traditional roses?
Image Courtesy of: Wedding Flowers & Reception Ideas
So, will any of you be using peonies as your bouquet flower? Or are you strictly roses all-the-way? Share away!