Yamakas are a traditional small, round cap worn by Jewish men and symbolize the humbling relationship between man and God. Yamakas are very commonplace at Jewish weddings and many engaged couples provide a basket of them to attending guests (I'm not Jewish but, from what I understand, it is proper etiquette for non-Jewish male guests to don the caps as a sign of respect – please email me if this is incorrect).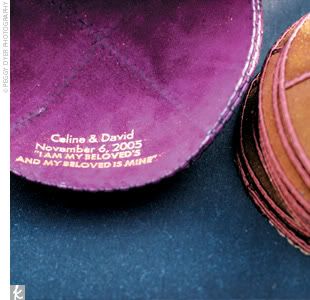 Image Courtesy of: the knot
So why not personalize them? Purchase a personalized rubber stamp (try an office supply store or etsy)and use Staz-on ink to imprint the inside of each yamaka with a special message. A sweet idea for an old tradition.