How did you keep track of your wedding planning (book, planner, Excel, other)?
An Excel spreadsheet held my to-do list and guest list. A label in my gMail held all wedding related emails.
Did you register for gifts and was it a good experience?
Yes. Highly recommend Crate & Barrel and Williams-Sonoma. Both have beautiful items and great completion programs.
Could you share some wedding planning advice for newly engaged couples?
Stay true to yourself. There is no such thing as the right way to do something.
Where did you splurge and where did you save?
We splurged on a stunning venue and saved nearly everywhere else. My dress was from J Crew and I did the flowers and paper products myself.
What specific cost surprised you (pleasantly or unpleasantly)?
Nothing really. Before we got engaged, I worked with a lot of brides at a paper store. I was well aware of the costs and how vendors like to add an extra $500 when it's for a wedding.
Could you share a favorite DIY project from your wedding?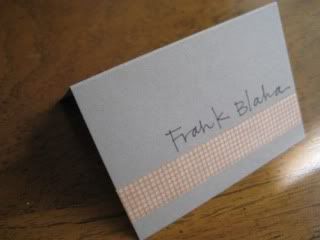 The placecards
Could you share some wedding day advice for newly engaged couples?
Pick a bridal party that will support YOU no matter what. Find friends that you enjoy spending time with and make you laugh. Smile a lot. Stay sober.
Could you share your favorite photo from the day and tell us why you love it?
I love this one right before Paul and I rejoined the party for our cocktail hour. It wasn't staged – which is probably why it's my favorite.
*******
Thank you, Elise for sharing your advice and DIY projects from your wedding day. I loved how you kept the look of the wedding stylish by sticking to a simple color palette and clean lines.
Would you like to ask Elise any questions about her wedding experience or follow her wedding from engagement to honeymoon? Leave a comment and we'll try to get back with you! For more from Elise, visit EnJOY it.