How long after your got engaged did you begin planning the wedding?
Ha! We started talking about getting married long before we were engaged, so by the time the ring was on my finger I already had a list of ideas and inspiration saved on my computer.
How did you determine the wedding's budget and who contributed what?
My parents contributed about $12,000. We knew we didn't want to take out a loan or waste away our savings on one day so we did what we had to do to stick to that budget.
How did you keep track of your wedding planning (book, planner, Excel, other)?
Moneywise I had an Excel spreadsheet listing all of our expenses (flowers, church, music, food…), how much we budgeted for it, and then how much the vendor was quoting. The initial budgeted amount for almost everything changed once the planning got under way. When we realized we could get lots of small cakes for half the price of a "wedding cake," that extra $250 got moved to the food and alcohol budget and so on.
When you discussed the wedding, what 5 things where most important to the two of you?
The ceremony, family and friends being there, good food and alcohol, not being too "wedding-ish" and the kid's table. We had about 7 kids there and it was really important to me for them to be entertained, too!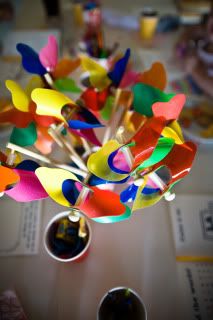 How did you incorporate those 5 things into your wedding?
We had the ceremony at an old cathedral, it was gorgeous! The actual ceremony is what getting married is all about so we really wanted it to be lovely. Due to our budget we only invited about 100 people so every person at our wedding was a close family member or friend. It was great to share the day with people we love!
We chose to have a daytime cocktail reception to save money, so we were able to serve awesome appetizers and had tray passed drinks for the duration of the reception. As for not being too wedding-ish, we didn't toss the garter or bouquet, we didn't do a huge exit… we just wanted to throw a party. We did have a first dance and we cut our cake but other than that it was just a fun time!
And the kids table I made was a favorite! Activity books, windmills, Slinkies, candy… they had fun.
Did you register for gifts and was it a good experience?
Yes and yes! We registered at Macy's and Crate and Barrel. Crate and Barrel was awesome and I would recommend their registry to anyone. They make it really easy to add/update/delete items, they make it easy to buy items for the guests, they package them for you, and you can return gifts for cash!
Could you share some wedding planning advice for newly engaged couples?
Don't stress out, do what you want to do (although I must say we got really lucky here because my parents only pulled the "I'm paying so we are doing it my way" card once. I know other couples have a harder time with that), and plan to have everything done a week before the actual wedding date.
Where did you splurge and where did you save?
We splurged on alcohol (try passed beer, wine and mimosas for three hours… costly for us but our guests had a wonderful time!). I saved on most everything else!
1. I bought my dress at David's Bridal.
2. We had a daytime reception that lasted 3 hours, rather than a night time dinner and dancing reception that lasts 6.
3. We used a beginner florist who was half the price of brick and mortar wedding florists.
4. We gave the flowers away as favors rather than buying favors.
5. We purchased multiple cakes from a local bakery which cost half of what a "wedding cake" would have cost.
6. I designed and printed all of my own invitations and paper goods.
7. My mom made my cathedral length veil for $20!
What specific cost surprised you (pleasantly or unpleasantly)?
Most everything wedding related shocked me at first. From the $3,000 wedding dress, to the $500 cake, to the place that said we couldn't do a cocktail reception there because we wouldn't hit their minimum… just add the word wedding and suddenly things are a lot more expensive.
The cost that pleasantly surprised me was the photography cost, as they gave us an amazing deal. I am still so touched that they would do that for us, it was such a weight off our shoulders!!
Could you share a favorite DIY project from your wedding?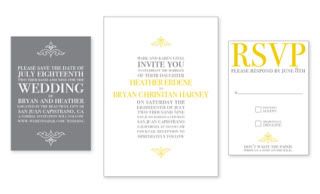 My paper! I loved everything that I created, you can see it all here.
Did you use any tutorials or downloads from other websites/blogs while planning your wedding?
I took a lot of inspiration from other blogs, which is why I started my blog in the first place – to document all of my ideas! My activity book was a collection of downloaded images (I didn't keep all the sources… sorry!) and I learned how to make poms from Martha Stewart!
Did you have to handle any tricky or delicate issues while planning your wedding and how did you cope with them?
I made the mistake of leaving off my in-laws names from the rehearsal dinner invite (they were hosting it)… big mistake, but luckily they forgave me. Other than that we had it pretty easy (or it wasn't so bad that I remember it a year later!
Could you share some wedding day advice for newly engaged couples?
Have a day of coordinator! It will be worth it! Don't bother trying to eat. Even though we walked past all of our guests to grab some food before saying our hellos, people found us, we didn't get to eat, and there were a few people who I never got to say hi to. Pack some snacks in the car or limo or whatever!
Could you share your favorite photo from the day?
I loved them all! But if I had to pick, it would be these ones: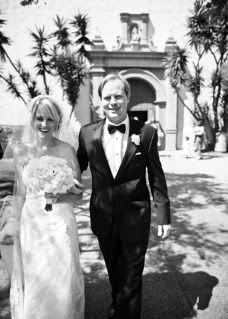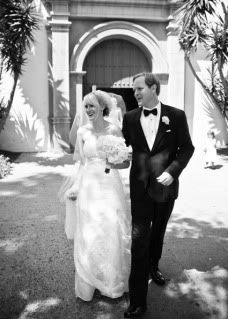 *******
Thank you, Heather! I loved all the amazing details that you DIYed for your wedding! That kid's table is freaking wonderful!
Would you like to ask Heather any questions about her wedding experience? Leave a comment and we'll try to get back with you! For another look at Heather's work – click here.