How long after your got engaged did you begin planning the wedding?
I was trying on wedding dresses the next day and I've had basic ideas and colors in my head since I was a little girl. So, I would say I started planning long before I even had a boyfriend (Yes, I know I'm a psycho).
How did you determine the wedding's budget and who contributed what?
My parents gave me a budget and I stuck to it. I was very fortunate; I know not everyone's parents put aside money for weddings. Mine did. His parents pitched in a little but it was mostly minimal. We did pay for our own honeymoon, though.
How did you keep track of your wedding planning (book, planner, Excel, other)?
I had a folder that I put all my stuff in: ideas, magazine cutouts, menus, vendor costs, things like that. I also used the budget tool on theknot.com, but it was more of a secondary thing. I made a lot of lists.
When you discussed the wedding, what 5 things where most important to the two of you?
The real answers are things like:
1. Exceeding everyone's expectations,
2. Making it the most fun for us and all the guests,
3. Trusting that it would play out according to plan,
4. Getting the best bang for the buck,
5. We didn't want anyone to feel rushed, hurried, uncomfortable, or pushed into anything.
But as far actual stuff, I'd say:
1. The music,
2. The venue,
3. The open bar (I don't care how many people have them – cash bars are NOT okay. Have a limited bar, or a beer and wine wedding, or a rum punch – don't force your guests to pay for drinks. It's wrong.),
4. My dress,
5. Air conditioning!!!
How did you incorporate those 5 things into your wedding?
I tried very hard to picture the wedding as a whole and not get caught up in tiny, irrelevant details.
When making decisions I tried to imagine how a guest would feel about them, sometimes I had to imagine guests of different ages and how they would all feel.
I tried to think of how things would work out that day – I focused on the timeline. If something seemed that might not go smoothly, I tried to fix it long before the day even happened.
I gave myself enough time before the wedding so I could really shop around for the best deals I could find. I almost never accepted a first offer.
Again, I tried to imagine how I would feel if I were a guest and how guests of different ages would feel. As for the other things: I made a list of things that we considered absolute must-haves, things I really wanted, and things that would be nice if I could afford them – then I budgeted accordingly.
Did you register for gifts and was it a good experience?
Funny you should mention this – yes, we registered. My husband and I briefly talked about registering but the only thing we really came up with was where we should register. A few weeks later, I was at work on a break and I decided to look online at the places we mentioned so I could see what was involved in registering.
When I entered my name, it came up as already existing and there were a lot of things already entered!!! My husband had been adding things for weeks! I talked to him about it when I got home and he said he didn't think I would care because I don't usually cook and the only things he had added so far were for the kitchen! Can you believe that?
Anyway, we registered for a bunch of things online together and then eventually we went to the actual store so we could really see the things we were registering for – it was fun. Picking out china patterns is a lot more fun than people lead you to believe. It was something that we got to do together and I really enjoyed it.
Could you share some wedding planning advice for newly engaged couples?
First thing you need is a budget. That is very important, once you know how much money you can spend, you'll know what kind of wedding you're going to have. Then, make a list of things you really want and things that would just be nice to have and budget accordingly. Give yourself enough time to get the most for your buck, if you have a short engagement, you can feel forced to accept a first offer simply because you don't have enough time to really look around.
Although, I truly believe a dollar can stretch pretty far; sometimes you have to eliminate things you want. Don't try to have a $40,000 wedding on a $5,000 budget – it simply won't work. Instead, try and plan the BEST $5,000 wedding you can plan. It's more fun for everyone.
Another piece of advice is plan your honeymoon early, that way, when the stress starts to get to you, you can just picture how great and relaxing the honeymoon will be.
Where did you splurge and where did you save?
I really wanted a live band that played Irish music, I won't bend on that one. I shopped around and found a good band with a fair price, but it was still more than a DJ.
I saved a lot of money on flowers - thanks to you, Cris [Cris: Helen purchased flowers in bulk and I made all the bouquets and arrangements on the morning of the wedding. It saved her money and gave us a great memory.]!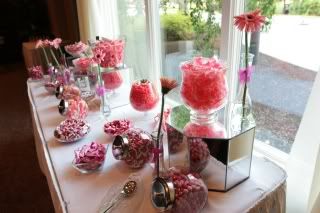 I also saved money on my candy buffet. I bought all the candy after Valentine's day at 75% off – it was all pink with hearts which couldn't have suited my wedding better.
What specific cost surprised you (pleasantly or unpleasantly)?
I had an open bar, and they charged per drink (rather than per person). My parents and I did the math on how many drinks we thought would be enough, we arranged a cap on the bar, and told the venue to tell us when we got to the cap. If we needed to pay for more, we might, or we may just close it. Well, that time never came. In fact, the venue RETURNED $1,500 back to us after the wedding because my guests didn't drink enough!!! I'm Irish and my husband is Italian so we were shocked our families never reached the cap.
Could you share a favorite DIY project from your wedding?
I had so many DIY projects I don't think I could pick just one! I made personalized candles with tissue paper and a hairdryer – that was a good one. I also named all my tables rather than just numbering them.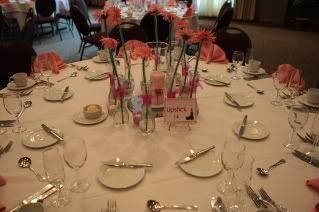 I made a platter for guests to sign instead of a guest book.
I made all the jewelry the bridesmaids wore. I really made a lot of stuff.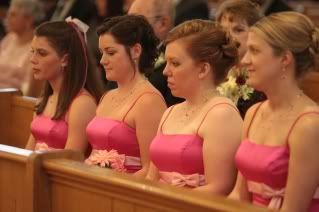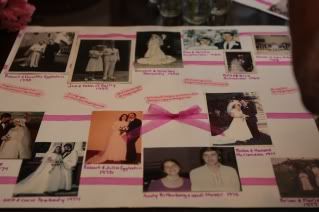 Did you use any tutorials or downloads from websites/blogs while planning your wedding?
I used the budget tool on theknot.com but other than that I did it mostly by myself.
Did you have to handle any tricky or delicate issues while planning your wedding and how did you cope with them?
My sister-in-law and I don't always see eye-to-eye but I took it in stride. Also my mother-in-law kept giving me nice, but very expensive ideas for things for the wedding. My in-laws didn't contribute very much to the wedding so I started to get annoyed by all the expensive things they were suggesting my parents should pay for. I finally started answering every suggestion with "that sounds lovely, but I don't think we can afford it." Eventually, she got the hint.
Could you share some wedding day advice for newly engaged couples?
Once the day comes around, you have to trust your plans and go with the flow. I stressed a lot before the wedding, but the day of, I just enjoyed all my hard work. If something goes wrong that day, you have to just let it go. Try to remember the good stuff and forget about the imperfections. HAVE FUN!!!
Also, don't drink too much, there's nothing tackier than a drunken bride.
Could you share your favorite photo from the day and tell us why you love it?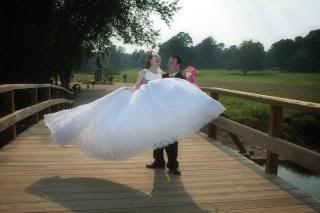 I love this picture because it was my idea. I told the photographer I wanted to do a "spinny picture" and he said he had no idea what that meant, so we just did it and he shot it and it came out great.
*******
Thank you, Helen! I loved your wedding…and that you used the old tissue paper and hairdryer trick that I taught you so long ago! Would you like to ask Helen any questions about her wedding experience? Leave a comment and we'll try to get back with you! For another look at Helen's wedding – click here, here, here, here, and here. And for a look at Helen's blog - click here.