How long after your got engaged did you begin planning the wedding?
We were engaged for 9 months and we started planning immediately!
How did you determine the wedding's budget and who contributed what?
Our parents set the budget since they were the ones who paid for it!
How did you keep track of your wedding planning (book, planner, Excel, other)?
We had a planning book.
Did you register for gifts and was it a good experience?
Yes, we did register for gifts. Mostly it was a good experience. There were a few instances where we must have registered too early and some of the things we wanted were no longer carried by the store by the time our wedding rolled around. Other than that, we got very few gifts that we didn't want or like.
Could you share some wedding planning advice for newly engaged couples?
Enjoy yourself! Don't get too caught up in everything and all the tiny things that you don't enjoy the process. This is a once in a lifetime thing, have fun with it!
Also, invest in a great photographer. This is the only part of your wedding that you get to keep. Make sure you get someone that will capture the day how you want to remember it. I wish someone had given me this advice when I was planning.
Where did you splurge and where did you save?
We didn't really splurge on anything in particular. One way we saved was by doing the flowers and invitations ourselves. I think this was really my first time doing anything DIY and now that's practically all I do! Since I was only 19 when I got married, I didn't have any experience with any DIY projects. To save money, my mom and I did some things ourselves and we had so much fun doing it and everything turned out great.
What specific cost surprised you (pleasantly or unpleasantly)?
I think food and the cost of cake was the biggest surprise to me. I just never thought of how much it costs to feed that many people!
Could you share a favorite DIY project from your wedding?
We made some really pretty hanging flower balls that hung from shepherd's hooks going up the aisle. I loved them! We also bought an embosser with our initials and embossed all the paper napkins. They turned out really pretty and it was an extra little personal touch.
Did you have to handle any tricky or delicate issues while planning your wedding and how did you cope with them?
I remember that the last week right before the wedding I was completely stressed out and having a meltdown with how much it seemed like there was left to do. So my mom took me aside and told me to give her a list and she would handle everything so I wouldn't have to. My mom is amazing! So for the last week before the wedding I concentrated on fun things like pedicures and picking up my dress while my mom did all the work! If there is anyone in your life who you trust completely and is willing, enlist their help to relieve the stress of the last week (or month) of your engagement.
Could you share some wedding day advice for newly engaged couples?
Enjoy the day. Don't worry about if everything isn't perfect. If you get all caught up in the little things then you can't enjoy the big things. Relax and just enjoy the moment and the reason for being there!
Could you share your favorite photo from the day and tell us why you love it?
My favorite photo is of my dad walking me down the aisle. We had a beautiful, sunny day and right when we were standing at the back of the aisle, a shaft of light from the sun shone directly on me alone (it didn't even reach my dad) and it was caught in the picture. Unfortunately, all of my pictures are mounted in a book and so I can't scan them in (this is before the digital age!).
Could you share a DIY project (using a little something from every jot and tittle) with Kiss My Tulle's readers?
Here are some pictures of some favors I made using my tags. I used them in kraft paper and the picture shows white paper but, as with anything in my shop, they can be ordered in kraft.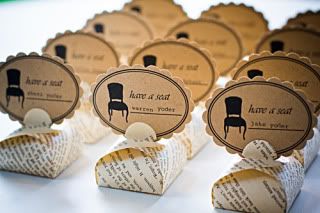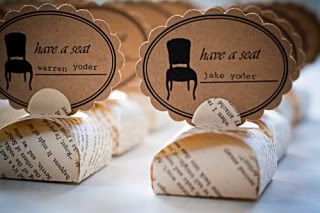 **Edited to add: Kellie shares a tutorial of how to create this cool, vintage-y favor over at her blog. Click Here to read it!**
*******
Thank you, Kellie! Your wedding sounds like it was lovely – what great advice about delegating projects! Would you like to ask Kellie any questions about her wedding experience? Leave a comment and we'll try to get back with you! Be sure to check out Kellie's blog and etsy store.