Overstock.com is the much-hyped website that sells items that have been, uh, overstocked and thus are for sale at a steep discount. On a tip from a reader, I randomly typed "white wedding gown" into the site's search engine to see what (real budget) deals would show up. And I was pleasantly surprised! The site actually had quite a few lovely dresses that would work beautifully as a wedding gown and at excellent, "steal-of-a-deal" prices.
Here's a few of my favorites:
Evanese Women's Plus Size 3/4-sleeve Long Dress – $89.99: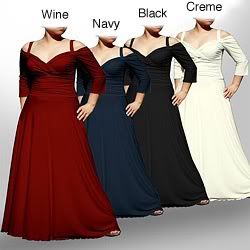 Perfect for the plus-sized bride or Renessaince-themed wedding.
Party Line Designs Women's Evening Maxi Dress – $41.24:
For your more daring or summer-y brides.
Patra Ltd Women's Beaded Metallic Brocade Jacket Dress – $143.99: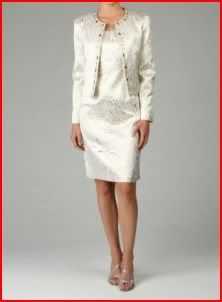 This lovely suit would be a chic option for a mature bride (or mother-of-the-bride).
Ignite Women's Mother-of-the-Bride Shimmer Dress and Jacket Set – $144.99:
Another excellent option for the mature bride (or mother-of-the-bride).
Max & Cleo Women's One-shoulder Maxi Dress – $95.99:
The subtle print on this dress makes it a little more fun and perfect for an urban wedding.
Ignite Women's Empire-waist Beaded Chiffon Goddess Gown – $156.99:
So sweetly sexy and summer-y.
R & M Richards Women's 2-piece Lace Dress Set – $109.99: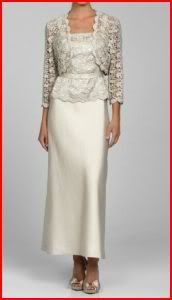 I love this for an early fall church wedding.