Today's Wedding Wednesday is about our experience registering at Crate & Barrel. When we first discussed registering (if we would do it, where we would do it, what we would register for, etc.), we weren't going to tackle that task until further into our wedding planning. But! We ended up registering at Target about two weeks after we got engaged because someone offered to host an engagement party for us and wanted us to be prepared. While at Target, we realized that we were going to need to register at a higher price-point store to get the nicer things (mostly kitchen stuff) that we wanted.
Image Courtesy of: Crate & Barrel
After a bit of discussion, we decided to go with Crate & Barrel. There's an outlet near our house that we have bought several items from and been really happy with. We like C&B's simple classic style and higher quality items so I went ahead and signed us up for a registry online. About a week later, I received an email that the company was hosting Wedding Parties throughout the month. These Wedding Parties would occur every Sunday before the stores opened and provide customized registry service and advice to newly engaged couples. I thought that sounded great so I called the store nearest us (the Crate & Barrel in Gateway MarketPlace in Austin, Texas) and signed us up for one of the openings (incidentally, the only day that we could do this was Super Bowl Sunday [SHUT UP! I KNOW!]. We were a bit nervous about the timing but it ended up working out fine and we had plenty of time to finish up and make it to the viewing party.).
On the day, we showed up and waited in line with a bunch of other couples. This is actually something that made me a little nervous. See, we're not your normal getting engaged for the first time couple and we're also not cool, hip, chic, wearing Prada and cashmere alt-couples either. We're just middle-aged, fat, and lazy dressers. We DEFINITELY did not fit in with the small cluster on the store's stoop. However, after a bit, more couples came and many where our age and just as casually dressed as us. There was also a gay couple in the bunch (who, by the way, were the ONLY couple that the Boy chatted with the entire time. Seriously, those three had a, well, gay old time at this thing.).
Anyhoo, when we entered the store each couple was given a packet that included information about the Crate & Barrel registry process, a few product info cards, and a small "items to register for" booklet. There was also a dude serving espressos (from a Crate & Barrel product) and several local vendors offering snacks (and business cards). We grabbed a couple of snackies and followed the group to the furniture section for a quick orientation. Everything was really casual and the store's entire morning staff was there to help out. I'm guessing that there were at least 1 staff member per 2-3 couples which was great because whenever you had a question/needed help – boom! Someone was there.
After orientation, we picked up our scan gun and headed back to look at the furniture (we're in the market for a couch and a new bed). We were pretty thrilled that the staff encouraged us to climb up on the furniture and try it all out (within reason – keep your clothes on!). Once we had narrowed our choices, there was a furniture specialist who helped us chose custom fabrics and make final decisions. Next, we tackled silverware. Funny thing, we hadn't really planned on buying silverware but The Boy was messing around by the display and ended up really liking a specific design (C&B lets you touch and hold the pieces and he was impressed with the quality and weight) – so I gunned it. Then we moseyed around the linens and laundry care items (and added a few things to fill out the items we had registered for at Target).
The last section we handled was kitchen wares (we did this because most of the couples started there and by the end of the Party – it was pretty cleared out). At this point, I pretty much just sat back and let him take the reins because he was really interested in learning about the quality of the pieces and their warranty programs…which, frankly, bored the hell out of me. I turned over the gun and let him loose for a while (he chose the knives, the small appliances, and the cast iron cooking pieces). Then, he turned it over to me to finish up with the baking and miscellaneous small gadget-y things.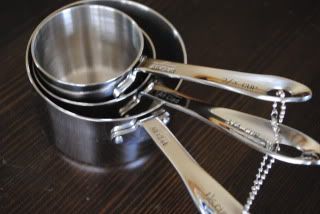 This all took about two hours and when we were done we got a printout of our registry and a small vase (as a thank you from C&B). All and all, it was an excellent experience (The Boy couldn't stop talking about how much easier and more pleasant it was that our experience at Target) and we were happy we participated – even on Super Bowl Sunday. One of my favorite parts about the experience was being able to participate in C&B's various bonus/reward programs. These programs change all the time and allow couples to "earn" FREE items from the various companies that Crate & barrel work with. To date, we have earned a great 7" Calphalon knife and some All-Clad metal measuring cups – which we are very happy with!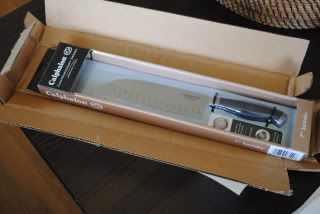 Have any of you registered at Crate & Barrel? Did you do it through a Wedding Party like we did? How was your experience? Was there anything that you wish that you had registered for and didn't? Let us know in the comments!